Share the post "How to spot a fake COACH bag? See it in pictures and watch videos here!"
With cheaper-than-boutique Coach bags being sold online – Facebook, blogs, websites and even Instagram, you have to wonder, are they authentic? Some are but some aren't. That's why we encourage you to buy Coach directly from the boutique if you're looking for the real thing. But not everyone can afford to go to the boutique. We are in no way judging anyone who buys online. But when the occasion arises, and you see a fabulous deal you just can't resist, read this guide first. Choosing to buy a cheap fake Coach bag is a personal choice. But to spend your hard earned cash on a fake bag that you thought was real is disappointing.
Here are some picture-led tips on authenticating the Coach bag. If you still need more help on how to spot fake Coach, we have also included two videos to help you. Please note that some fake bag manufacturers can really copy well. The tips below are not exhaustive and there may be more tips on identifying a fake. Nevertheless, it should help you in spotting majority of fakes. Good luck!
Fake vs. Real: A quick side-by-side comparison
Detailed tips on how to spot fake Coach
#1 – CC patterns that don't align. 
This should be your first line of defense because you can spot it from far without going into too much detail. Just by looking at it, you can notice the CC in the middle of the fake bag on top has been chopped off under the seams.  This should send alarm bells ringing for you. Stay away! The left side should be a splitting image of the right side. Now look at the authentic one, the CC on the left and right side still match even under the seams. COACH craftsmen take a great deal of effort to ensure that every inch of the bag is perfect.
#2 – Check for logo font detail. 
The thing about COACH branding is that it has a few different font sets even in logos unlike Louis Vuitton which has very established and limited fonts. The more variations and inconsistencies there are, the harder it is for you to authenticate.  For example, Coach seems to have to different type fonts for the 'C'. Also, the whip in the horse and carriage logo appears to be curled back at one point and released at another. Hermes will not have this type of inconsistencies but it is relatively a much younger brand anyway. Our advice is to always check in the COACH logo for the 'A'  and ensure that it has a pointed top and not flat.
#3 –  Plastic wrapping over the purse straps, or any part of the bag, wallet or accessory is a bad sign.  
Occasionally, zipper pulls and other Coach hardware might be wrapped with plain packing paper or sponge wrap, but never plastic wrap. Real leather needs to breathe or it will be ruined. Wrapping leather in plastic prevents the leather from breathing because plastic inhibits airflow. Now nothing bad would come out of wrapping fake leather in plastic because fake leather does not need to breathe. So, if you see plastic wrapped around the handle of a handbag, it is probably made of fake leather and Coach does not use fake leather. Therefore, the bag is probably fake. Plastic wrapping is also a sign of fake Louis Vuitton as explained in our previous post.
#4 – Signature C pattern on the outside as well as inside is a sign of a fake.  
The bag on the left is fake, on the right is authentic. Coach bags with signature patterns on the outside should have a solid/plain interior lining or a Coach lozenge logo lining, not a C pattern lining again.  Exceptions to this rule are  2 styles of the signature "wave" patterns that also have a signature C lining.  It should be noted that vintage Coach bags did not have linings.
#5 – The Coach creed is embossed with a style number but without registration number.
Coach bags will have an authenticity tag that has a style number and unique serial number. A Coach creed provides info regarding origin and details of the handcrafting.  Smaller Coach pouches, cosmetic cases, wristlets and accessories don't generally have a creed and for the few pouch styles that do, the creed does not contain a style or registration number so check for other signs of authenticity. Below, this Coach handbag is identified as a counterfeit by the authenticity tag, which lacks the style and serial number.
Real Coach bags have a serial number. This one on the top left doesn't. On the right, the serial number was simply pasted on.
#6 – Wording on the Coach creed that is jumbled or misspelled.
Each line of an authentic creed has evenly spaced words that contain no spelling errors. Can you spot the mistake on this one? Although the creed appears to have been heat stamped, the word 'superior' was spelled as 'surerior'! And the creed should end with a full stop. Always look out for different tell tale signs. In this case, it appears to have a serial number but then it also has typo.
#7 – Signature pattern must show double C and not single C.
The signature style for Coach will always be the two C's next to each other in doubles, not as the picture shows below, in a single row of C's.
#8 – 'O' rings that have a break in the circle. 
If the bag or accessory has any O-Rings they will be continuous circles and high quality. There will be no break in the circle and should not spin. If the strap has a key hook on it it will be the same color and the same size as the O-Ring. Fake Coach O-Rings may spin and the gap is visible, where the metal had been pinched together. Also, the metal may be plated to look like brass. Real Coach hardware is made of actual brass or heavy duty metal (more on gold metal hardware later).
#9 – Dust bags should be well made.
In the bottom right the words in all caps "COACH EST.1941″ written in white. Coach does not use cheap material to make these. There are many replica dust bags floating around on the Internet. So if you see one stay away, chances are that bag is fake like the ones below:
Here are more photos of authentic and fake COACH bags to help 'train your eye'.
FAKE
Bad stitching, wrong spacing/kerning between alphabets and bad logo detail.
If you like this story, you might also like:
HOW TO SPOT A FAKE LOUIS VUITTON
AUTHENTIC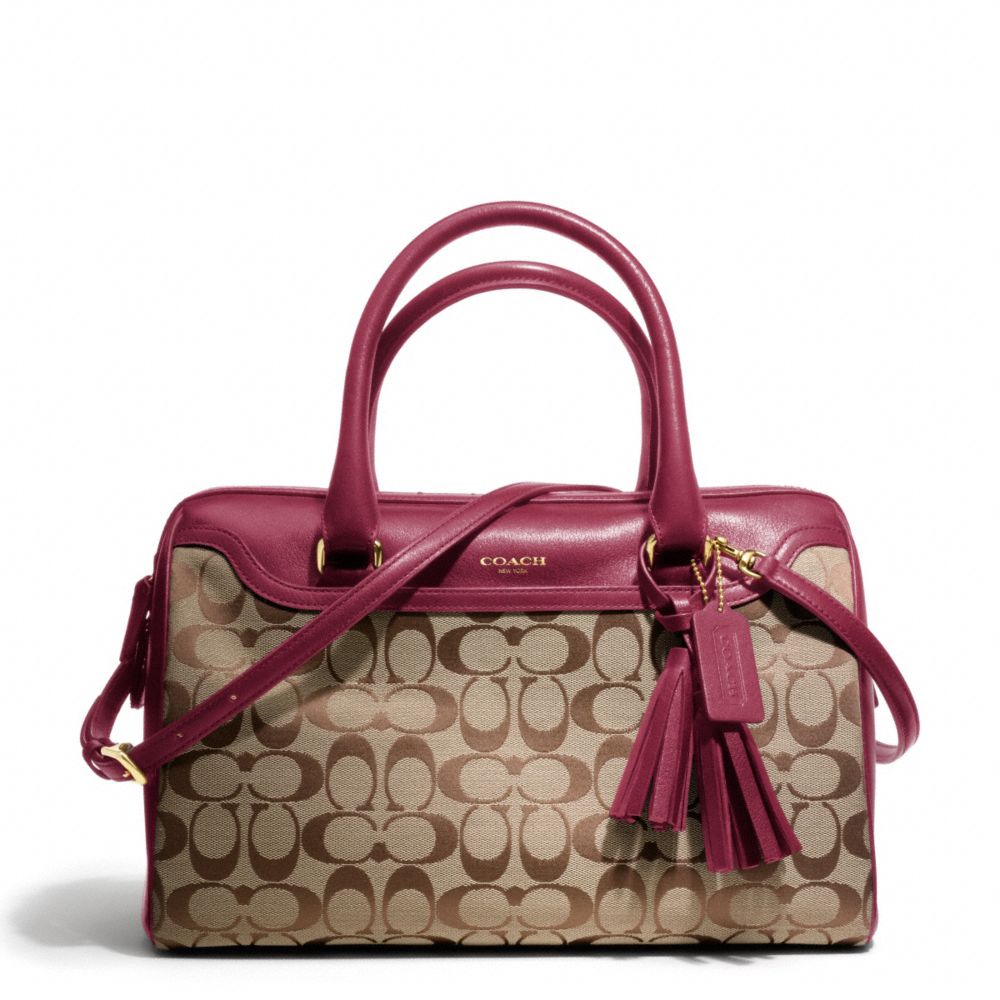 Perfect mirror image of CC left and right side of bag.  Perfect stitching. Sturdy material that allows the bag to stand. The leather looks exquisite! Image from COACH. Buy directly from COACH here.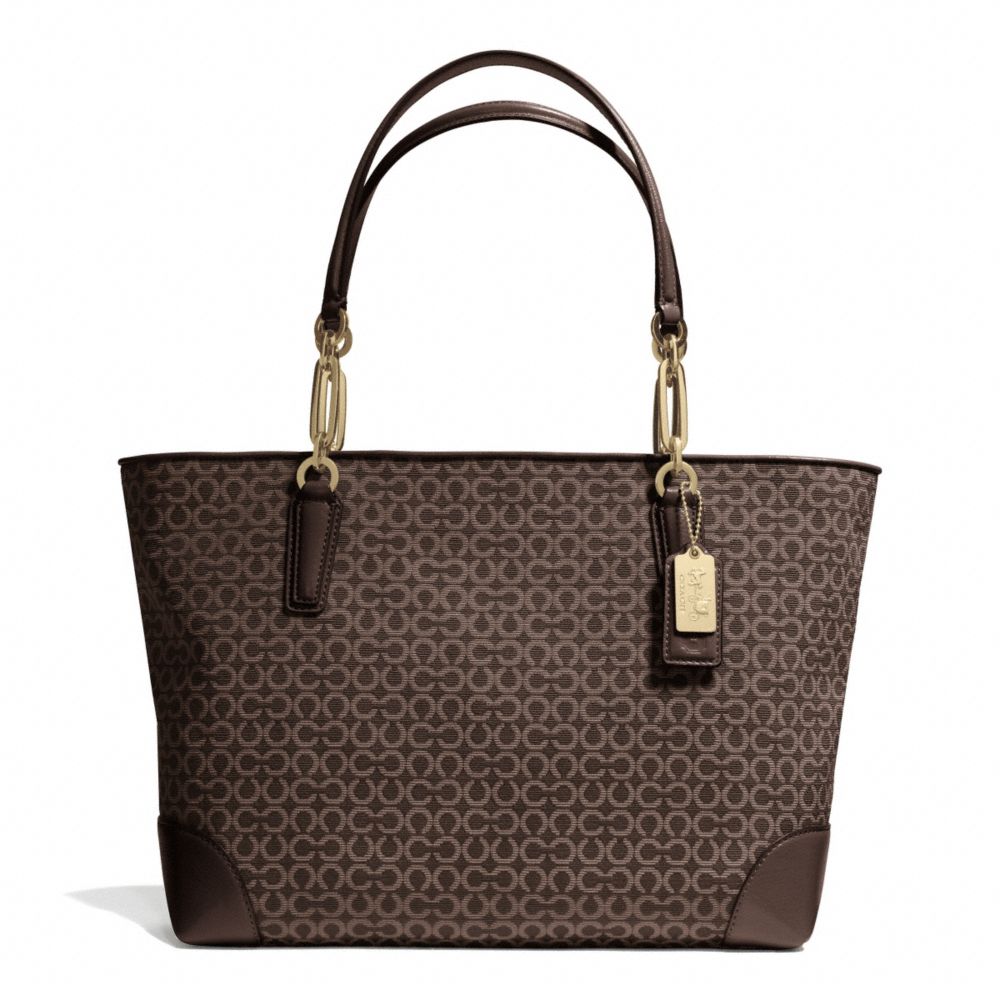 Perfect symmetry between left and right when it comes to design. Perfect stitching around the handles. Perfect stitching along the top. Both handles align in terms of height and placement on the CC design.  Image from COACH. Buy directly from COACH here.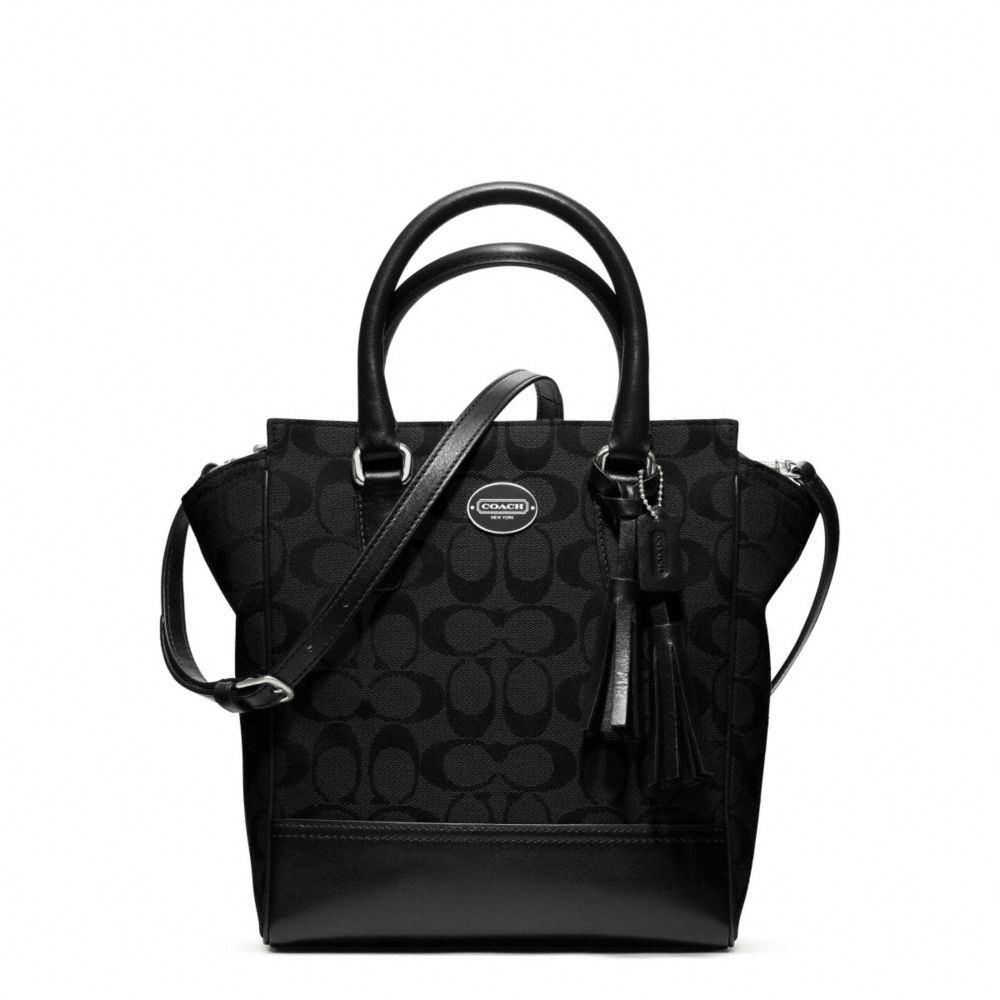 Perfect symmetry between left and right when it comes to design. Perfect stitching around the handles. Perfect stitching along the top. Both handles align in terms of height and placement on the CC design.  The leather trims look amazing. Image from COACH. Buy directly from COACH here.

Additional things to look out for:
Any tackiness found on the leather from glue residue. Imposters often glue their leather seams and trim pieces before stitching them.
Hardware that appears to be polished nickel, but has the weight of plastic.  Tap the hardware.  You can tell the difference between actual metal and metallic plastic by the density.
Sellers offering multiple quantities within the same listing, or posting the same style Coach item over multiple listings.   These sellers should cause you to scrutinize their past sales.  Ask more questions to verify authenticity.
Auction listings that include a handbag with matching accessory, particularly if the seller has several auctions with matching sets.  Some counterfeit suppliers promote free matching accessories with the purchase of their Coach bags (i.e. totes & satchels are paired with wristlets or wallets).  Imitation sets are plentiful at eBay.
Embossed hangtag or hardware with a crooked or partially stamped. Coach logo  Authentic Coach embossed logos are precisely aligned.
BONUS! Watch this video on how to spot a fake Coach.
We like this video! His explanation on how to spot a fake Coach is really clear:
We hope that you have found this guide useful. Make sure you check out our earlier stories on How to spot a fake Louis Vuitton Bag and How to Spot a Fake Chanel Bag too.
Please help us spread the word by spreading this story. SHARE ON FACEBOOK, LIKE ON FACEBOOK, TWEET THIS, HIT G+ or e-mail to your friends and family.
Please help other fashionistas like you make informed purchases.
We love you!